Archive for the 'White Noise' Category
Some friends are harder to save than others.
KCodlin: Stop posting songs on Tumblr. :-/
Molly: why? you don't like them?
KCodlin: I never listen to them
Molly: you and kristin (and bran) come to church with us, and I will.
KCodlin: Wow, that's a shot out of nowhere! Heh
Molly: hahaahha. 10:15 on sundays
KCodlin: I'm busy
Molly: we even feed you after! free food!
Molly: why are you afraid of being saved?
KCodlin: That's when I make last minute fantasy football changes
Molly: hahaha. Sigh. One of these days…
KCodlin: It's not that I object to the whole being saved thing, but it seems like a lot of effort.
Molly: sigh… what if you were just to give it a try. who knows, you may like it.
KCodlin: But then people try to, like… talk to you and stuff, right?
Molly: hahaha…no…at church you mean?
KCodlin: I'm not really into the whole talking thing.
KCodlin: You know… with people
Molly: people may come up and say hi…introduce themselves….but they won't try to force you into talking to them.
Molly: you sit there, stand sometimes, sing some songs, listen to some stories, then leave.
KCodlin: Yeah, you see, that all saying hi thing… I dunno
Molly: you are in control of how involved you get. Hahahaha
Molly: ok, fine…I will change the subject…
KCodlin: But then you have to walk out of the, what do you call it… the place with uncushioned benches you sit on for 8 hours at a time…
Molly: but seriously, I will ask again. nope…cushioned chairs. no pews.
KCodlin: You walk out and there they are… people in robes and all smiling at you. Wanting to shake your hand…
Molly: hahahaahah. that is NOT how it is
KCodlin: And the whole koolaid thing? When everyone is all like, "the cops are coming, just drink this!" I dunno…
Molly: hahahaah. you're funny.
Molly: I don't go to church at a compound!!! I mean, it IS on EMU's campus, but…
KCodlin: Compound… church… cathedral… underground bunker… whatever. You say tom-ay-to and I'll say tom-ah-to.
Molly: sigh. And we serve wine, not koolaid
KCodlin: But it's really blood, right?
KCodlin: I mean, that's kind of gross. Really.
Molly: hahaah. symbolic.
KCodlin: Blood and skin? Who came up with this kind of menu anyway?
KCodlin: Symbolic?  I thought that whole spell that you cast is supposed to really transform everything into blood?  You mean that's all just fake?
Molly: wow…God is really testing me right now, isn't he?
I wanted a share a really nice picture of Kristin and I in our Halloween costumes this year.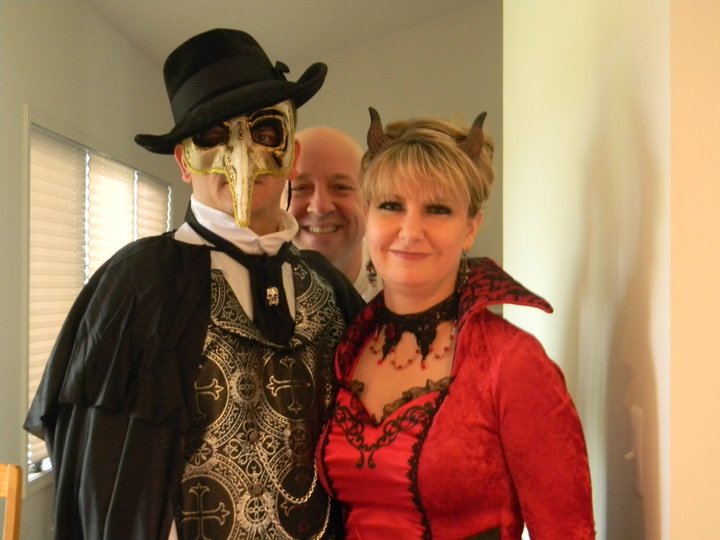 Really nice that is until you notice Mr. Clean back there.  :-/
Halloween party was a big success.  Not so much in the way of Halloween oriented games and crap, but a lot of cards and kids running crazy through the house.
There may have been a shot or two of booze as well.  😉
Here are the most frequent searches done on the Internet that hit on my blog between July and Sept of this year, complete with mispellings:
King Julien
Michigan Football
Ohio State Football
WoW Cataclysm
Name Tag
Bascic Reading Skills
Star Wars Droids
Football Motivational Posters
Flock of Seagulls Hair
Cataclysm
Nothing terribly exciting except that King Julien is evidently the most interesting thing I've ever posted about on this blog.  Also, why are so many people searching for "Name Tag"?  What could anyone possibly want to now about something so generic as a name tag?
Here are some of the more interesting search phrases:
Go Buckeyes (O-H…)
I am extremely (Tired?  Happy?  Flatulent?)
Michigan Demotivational (Michigan is pretty demotivating in and of itself lately)
Star Wars Hangar (Damn Star Wars nerds)
Star Wars Garbage (What the…)
80s Hair Highschool Picture (We all have them.  Don't lie, you do too!)
Computers with Blue Lights (WEEEEE!)
Integral Radical Lipstick Slide Rule (I'm actually the top search result for this!)
Look Closely (and you'll see my blog)
Michigan Defeat (There's got to be billions of results for this this, I'm sure.  Pfffft!)
Utah Symphony Opera (I'm pretty sure I never posted about this)
wwwpornqueen.com (Heh, I love searches that include the www and the .com)
Kyle Pedophile Illinois (Fortunately, I am NOT the #1 result for this)
If you can watch this video three times in a row and NOT have the song stuck in your head for all eternity, please explain to me your Jedi training abilities.  I'm now walking around the office and joining meetings singing, "BABY MONKEY!  BABY MONKEY!"
Lyrics for your enhanced singing pleasure:
"Baby Monkey, Baby Monkey,
Riding on a pig, Baby Monkey.
Baby Monkey, Baby Monkey,
Backwards on a pig, Baby Monkey."

"The world has gone insane,
And you don't know what is right.
You got to keep on keeping on;
Get on that pig and hold on tiiiiii-ight!"

"Baby Monkey, Baby Monkey
Riding on a pig, Baby Monkey.
Baby Monkey, Baby Monkey
Going Backwards on a pig, Baby Monkeeeeeeey, HEY!"
Most anyone who has run a web sites is probably familiar with AWStats.  If you know enough to start up a web site then you are geeky enough to dig statistics.  And what could be cooler that stats about yourself?  And if you run a blog, by definition, YOU are your own favorite subject, so it's like geek-heaven!
One of the things you can find out with stats collected about your web site is just how exactly people found you.  If you're a business, trying to make money from your web site… read:  PR0N… then this is pretty important, as you can imagine.  In particular, you would want to know how people found your web site via search engines.
Now, I have no interest in any of this.  I don't sell anything from this web site, I don't make any money, I have all of maybe five people who read this, afterall.  (Hi Mom!!!)  But what I do find highly amusing is when someone accidentally finds my web site, by Googling something almost… but not entirely, unrelated.  It's like a tiny window to peak into the creepy, dark, altogether wretched Internet habits of completely anonymous strangers.  So every month I take a look at what people search for on the Internet, which just so happens to also touch my blog albeit ever so slightly.
For example:  For all of 2009, far and above, the #1 search phrase that hit my site was "bascic reading skills".
What do you suppose is more likely?  Something is interesting enough about "bascic reading skills" to warrant the vast number of searches, or that people interested in "basic reading skills" should really be searching for "remedial spelling"?
Some other ones from 2009 that I find funny:
nkay the god – Who is nkay?  I can only hope we're related, somehow.
caps lock is god – No, it isn't.
top 10 things that scare people – nkay is probably in the top 5.
abandon all hope tattoo – Maybe people will put this right on their face.
detroit sucks – Yes, it does.
kwame kilpatrick in cuffs – Glad that other people are interested in this, too.
marie douglas-david is ugly – Now that's a cheap shot, folks.
youwwwporn.com – Now how did this find me?
shut up woman n getonmyhorse – Heh.
So here are the top search phrases that linked to my blog from March, 2010:
mit pi cheer – It's real!
why does she talk to me – I don't know, but Googling the answer is probably not going to help.
sister never hooked up – Prude.
bascic reading skills – All the illiterates love my blog.
losing the country – Do you really care if it's lost?
big guns – Great big, enormous, BURSTING guns…
wwwpornqueen.com – with big guns?
zombie ahead – Dear God!
Father of the early cubicle dies at 85
Glenn M. Walters, a former Herman Miller Inc. executive who was key in the production and marketing of office workspaces that became commonly known as cubicles, has died. He was 85.
That's right, the man who turned humans into hamsters has passed away.
Walters joined Zeeland-based Herman Miller in 1955 as a field salesman. In 1967, he led a task force that finished development and handled marketing for the Action Office system, which was introduced in 1968.

The system, with its movable walls, was a departure from the typical fixed office desks of the time and helped make cubicles commonplace.
Later in 1968, the first covert workplace operations were conducted in the field of crop dusting.
An urge struck me to upload a picture of where I work.  As I looked around my cubicle trying to decide what to phtograph, the target of my impulse became immediately clear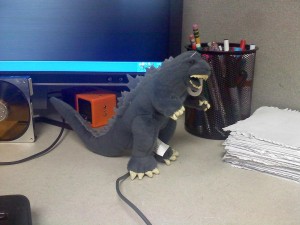 Maybe I'll make this a weekly theme… "Scenes From an Apathetic Cube"
meh.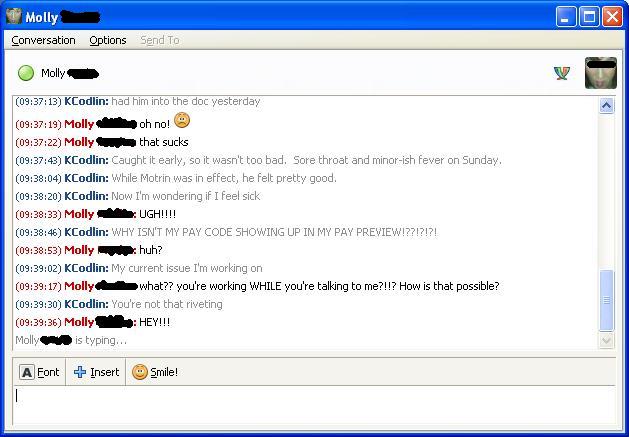 Honest to God, an actual cheer used at MIT athletic events:
I'm a beaver,
You're a beaver,
We are beavers all!
And when we get together,
We do the beaver call!

E to the u du dx,
E to the x dx!
Cosine secant tangent sine,
3.14159,

Integral, radical, mu, dv!
Slipstick, slide rule, M-I-T!

Go tech!
It's kind of catchy, really.  Maybe not on the same level as such classic, stadium rocking cheers as "O-H-I-O" and "GO BLUE", but nevertheless, it has style.
While we're on the subject, I can get the sound of this woman's voice out of my head.  It's really phreaking me out.  O.o
Molly linked me this video and I can't get the song out of my head.
I think I am seriously in danger of just randomly responding to people with "Shut up woman, get on my horse!"  And it's a forgone conclusion I'll never be able to drink lemonade without commenting, "Mm, sweet lemonade."