Archive for the 'You're Doing it Wrong' Category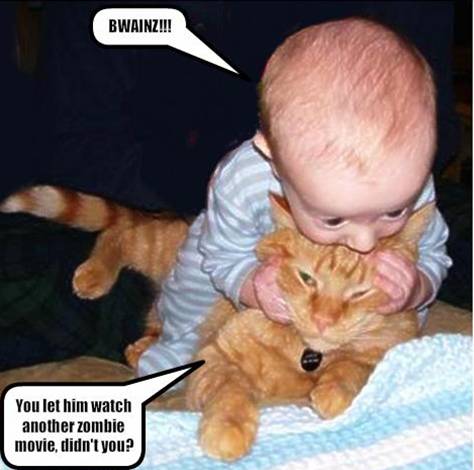 When Bran was around 5 years old, his favorite things to watch were old Godzilla movies.  You can imagine the things he did our cat, CJ. 

US low score on world motherhood rankings
To be more specific, USA ranked #28 on the Save the Children Organization 2010 annual report on the best and worst places in which to be a new mother.
Countries are ranked on mother related data:  such as the risk of maternal death (1 in 4,800 for the USA, compared to 1 in 47,600 in Ireland); Female life expectancy (A pretty good 82 for the USA); female schooling; and maternity leave benefits (USA ranks dead last out of 43 developed countries).
And countries are also ranked on children related data:  such as under 5 mortality rate (8 in 1,000 kids die before their 5th birthday in the USA, compared to 3 in 1,000 for several nations such as Finland, Sweden, Iceland, Luxemborg, and even Macendonia); and schooling for children (only 61% on kids in the USA get enrolled in pre-school, compared to 100% in many places)
If only we could figure out just what those other countries are doing so well…
Other countries where fewer kids die before age 5 compared to the USA:
Developed Countries:  Australia, Austria, Belgium, Canada, Croatia, Czech Republic, Denmark, Estoria, Finland, France, Germany, Greece, Hungary, Ireland, Iceland, Italy, Japan, Lithuania, Luxemborg, Malta, Netherlands, New Zealand, Norway, Poland, Portugal, Serbia, Slovenia, Spain, Sweden, Switzerland, and United Kingdom.
Less Developed Countries:  Brunei Darussalam, Cuba, Cyprus, Israel, Korea, Malaysia, and Singapore
Some of you may know that I play World of Warcraft occasionally.  (Those of you who know me well can stop laughing)
Blizzard announced their next expansion today with all of the major features that will be included.
Two new races to play!

Same old classes for players to level up through the same content they've had for years now.
Level cap raised to 85!

Half the increase of any other expansion.
New race and class combinations!


For everyone just itching to level up their 4th Warrior, this time as a Blood Elf!
More raid content than ever before!


Because having Normal and Hard modes of both 10 and 25 man instances count as 4 new raids, amiright?
Classic zones remade!


Everyone's just DYING to replay the Barrens, this time divided in two.  Let me guess… for twice the content?