Archive for the 'Brilliant!' Category
An original tale by Brennan Codlin:
(This was one of Bran's writing samples we received back from his 3rd grade teacher)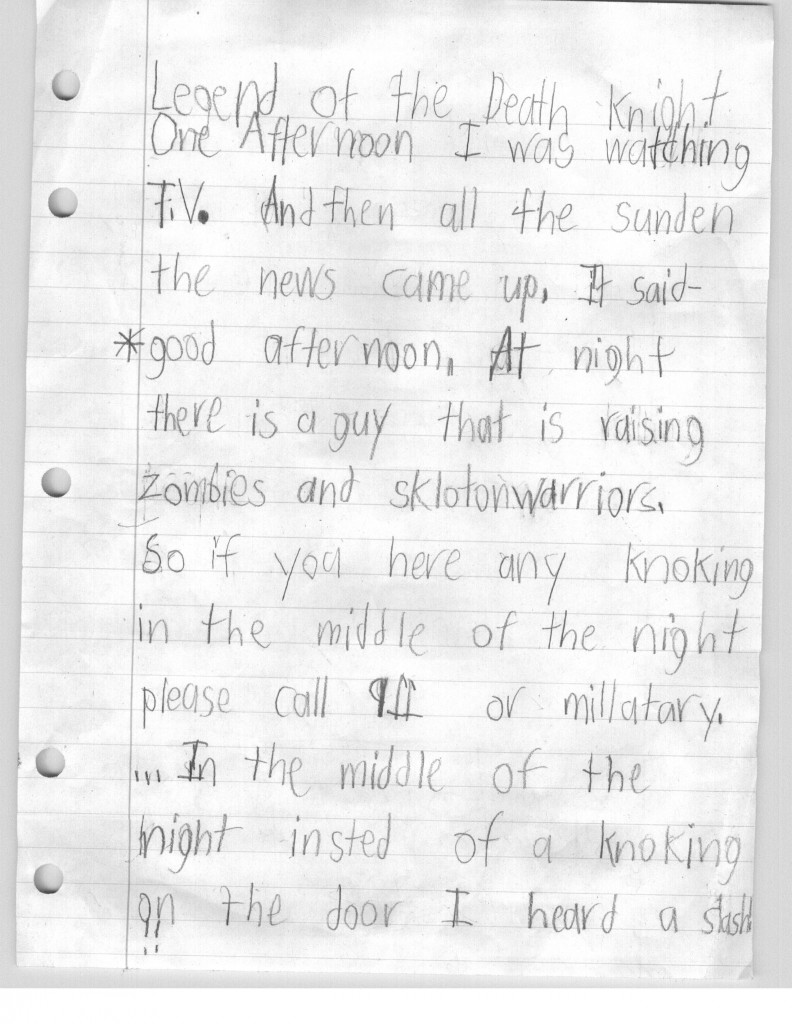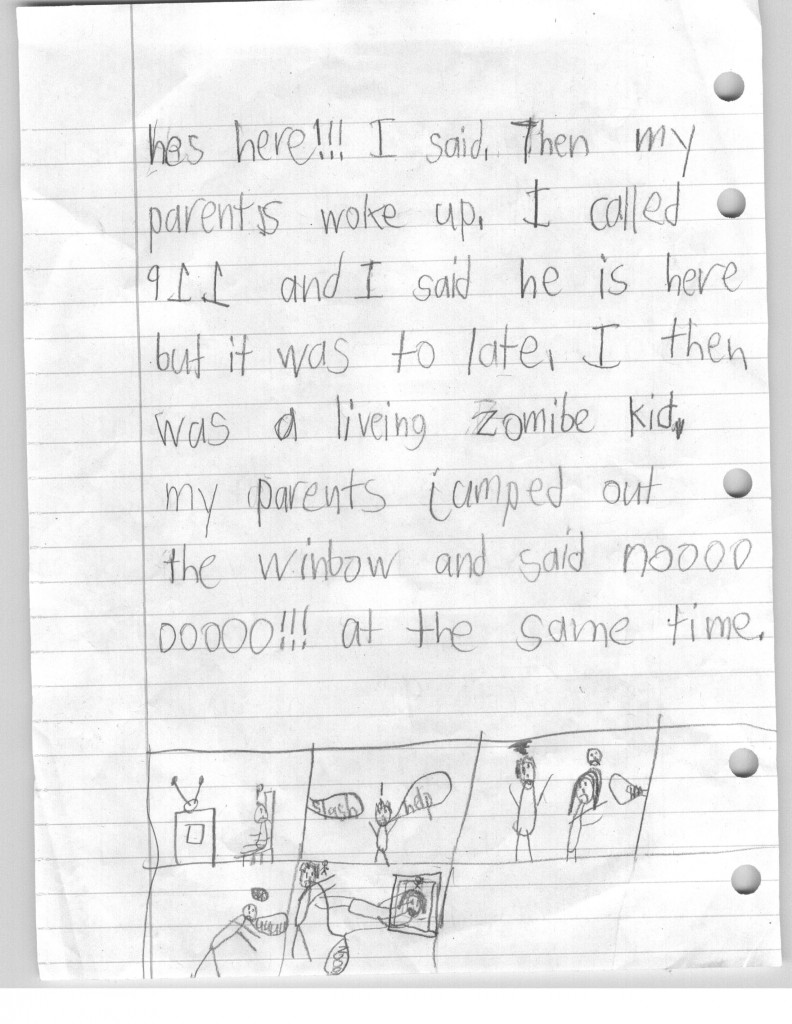 Transcribed in it's original draft form:
"One afternoon I was watching TV.  And then all the sunden the news came up.  It said-*good afternoon.  At night there is a guy that is raising zombies and skloton warriors.  So if you here any knoking in the middle of the night please call 911 or the millatary.

…In the middle of the night insted of a knoking on the door I heard a slash!  He's here!! I said.  Then my parents woke up.  I called 911 and I said he is here but it was to late.  I then was a liveing zombie kid.  My parents jumped out the window and said noooooooo!!! at the same time."
On a completely unrelated topic, I got the World of Warcraft Realm First achievement for Level 85 Death Knight on Azjol-Nerub.
;D
About five weeks ago or more, Kristin and I decided that we were going to host a kids oriented Halloween party this year.  Costumes, kids, and the whole shebang.  While it was plenty of time for everyone to make sure that they had their costumes in order, it wasn't quite enough time to lay claim to the primary Halloween weekend, so we scheduled it for this Saturday, one week before the holiday.
We started preparing, bought a fresh round of decorations for the year, and sent out the invitations to our friends with kids. ("Invitations" being a clear synonym for "emails")
Just today, two days before the party, I got this email from one my friends.  It wasn't even a new email, it was a reply just to me from a thread between a bunch of us discussing when our next poker night would be.  So it's not like he'd been thinking about for some time, it was just something that crossed his mind as we were emailing around.
From: Mike —— [mailto: m—–@——.com]
Sent: Thursday, October 21, 2010 12:00 PM
To: Kyle Codlin
Subject: Re: Poker

Are kids invited to your party

---

From: Kyle Codlin [mailto: kyle[at]codlin[dot]net]
Sent: Thursday, October 21, 2010 12:01 PM
To: Mike ——–
Subject: Re: Poker

Yes.  It's a costume party.

Kristin was handling all of this, didn't you get the memo?


---

From: Mike —— [mailto: m—–@——.com]
Sent: Thursday, October 21, 2010 12:04 PM
To: Kyle Codlin
Subject: Re: Poker

Yes.. Just making sure..

Kristin mentioned a carving table for pumpkins so I assumed kids were allowed.


You wearing a costume?

---

From: Kyle Codlin [mailto: kyle[at]codlin[dot]net]
Sent: Thursday, October 21, 2010 12:12 PM
To: Mike ——–
Subject: Re: Poker

YES!  Everyone should wear a costume to the costume party! 




Kristin, Bran, and I are wearing costumes.  I know R—– mentioned something about their kids' costumes and N—– and V—— are wearing costumes.  Pretty sure K——, C——, J—–, and R—– are as well.

---

From: Mike —— [mailto: m—–@——.com]
Sent: Thursday, October 21, 2010 12:12 PM
To: Kyle@——.com
Subject: Re: Poker

Maybe I'll just put peanut butter around my mouth and be an asshole..

If you can watch this video three times in a row and NOT have the song stuck in your head for all eternity, please explain to me your Jedi training abilities.  I'm now walking around the office and joining meetings singing, "BABY MONKEY!  BABY MONKEY!"
Lyrics for your enhanced singing pleasure:
"Baby Monkey, Baby Monkey,
Riding on a pig, Baby Monkey.
Baby Monkey, Baby Monkey,
Backwards on a pig, Baby Monkey."

"The world has gone insane,
And you don't know what is right.
You got to keep on keeping on;
Get on that pig and hold on tiiiiii-ight!"

"Baby Monkey, Baby Monkey
Riding on a pig, Baby Monkey.
Baby Monkey, Baby Monkey
Going Backwards on a pig, Baby Monkeeeeeeey, HEY!"
Bran had an eye doctor appointment today.  While looking deep into my son's eyes, examining irises, corneas, retinas, and his very brain for all I know, the nice doctor made an attempt at some chit chat with him.
Dr. Archer:  "So, what do you want to be when you grow up?"
Bran:  "I want to be a god."
Me:  * I just cover my face with my hands and shake my head*
<silence follows after Dr. Archer stopped dead in his work and sat back just looking at Bran>
Dr. Archer:  "You know… in all my years of asking that question, I don't think I've ever once been given that answer…"
It may be time to curb some of Bran's video game time.
Bran and I spent a nice Saturday morning putting together a little science project, courtesy of Grandma!
BEHOLD…

BranCan2010
Our initial activation of BranCan2010 was met with limited success:
It turns out that he just needed a more suitable surface to navigate:
I think the hardest part about making BranCan2010 was trying to stop myself from just putting it all together myself! 

We took Bran and his friend Noah out bowling this weekend and I took a couple of videos with my phone.  I think I may try using those rails next time I bowl a game!
We finally got hit by part of Snowmagedon 2010 and Bran's school was cancelled.  Someone has to stay home with him, so I stepped up to take care of the situation.
The choice was stay inside and play video games or…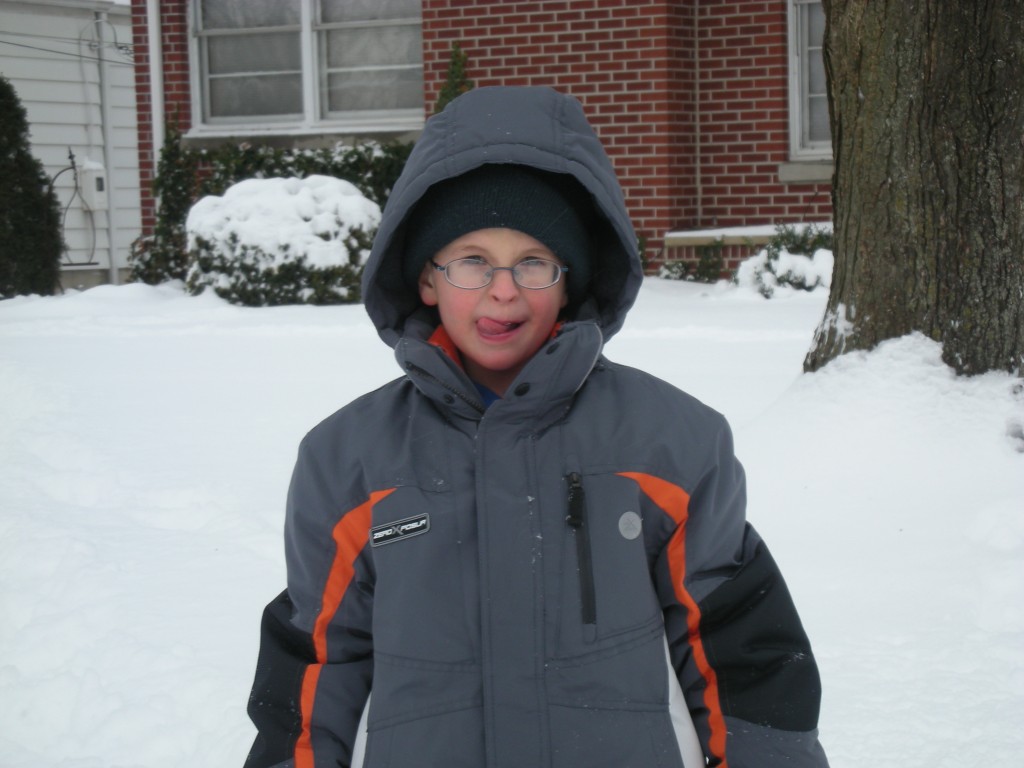 DRAG TEH SPAWN OUTSIDE!
Snow days can be a lot of fun…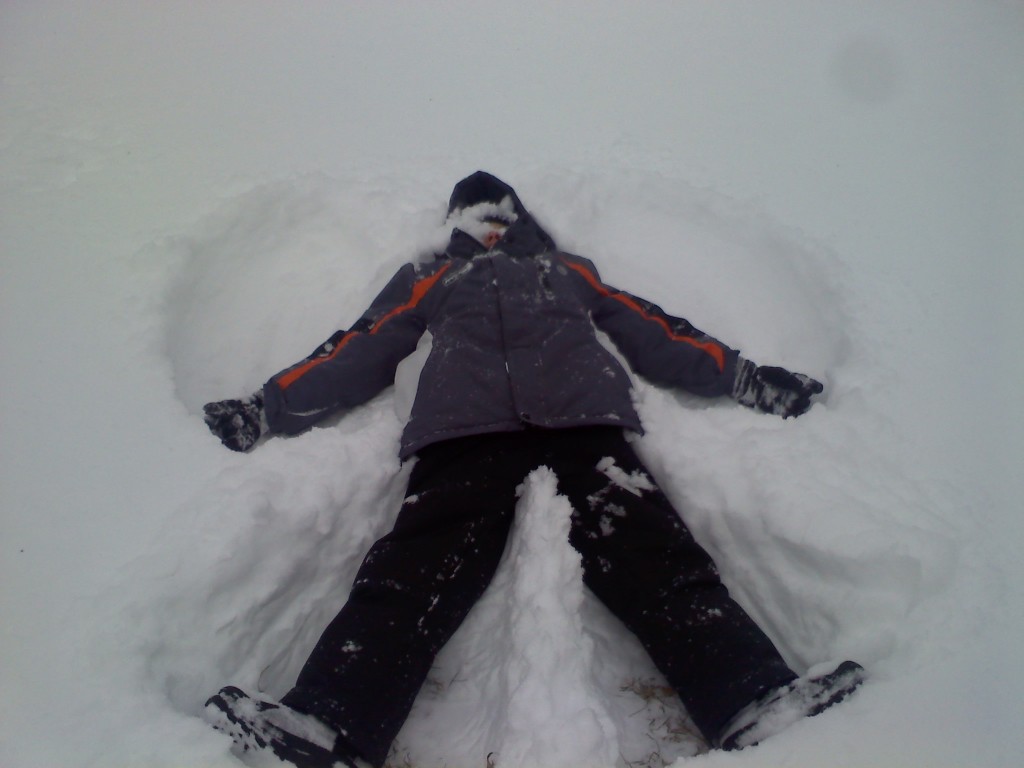 Snow days can also be a lot of work…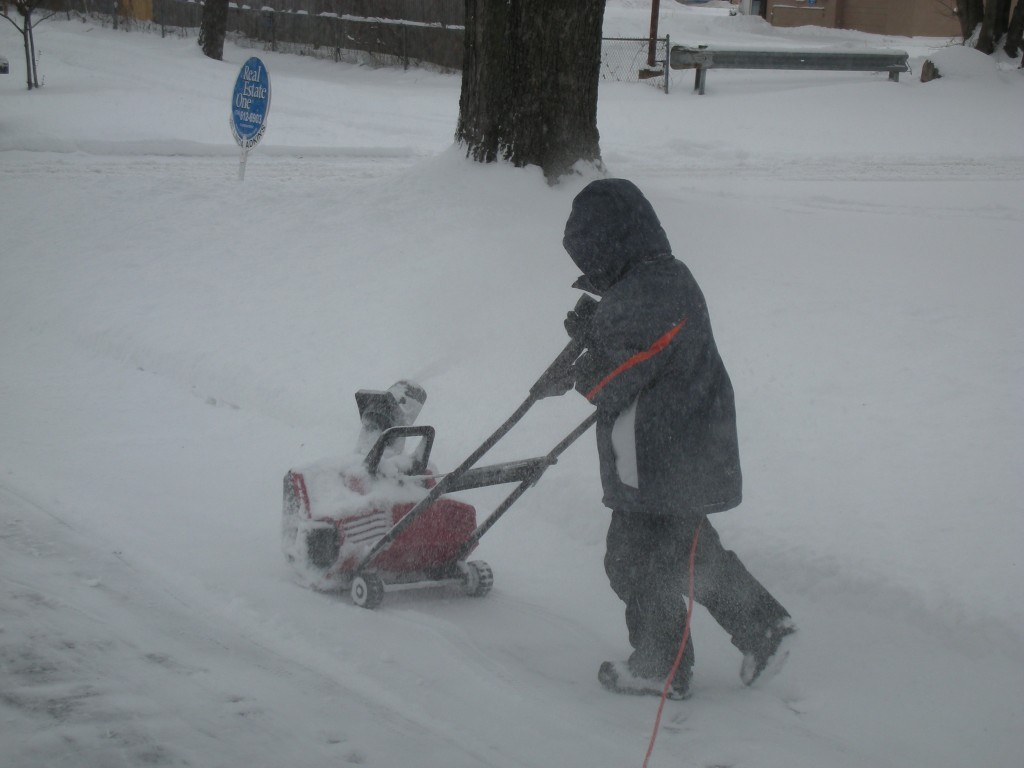 No matter what you do on a Snow Day, no school never fails to put a smile on a kid's face.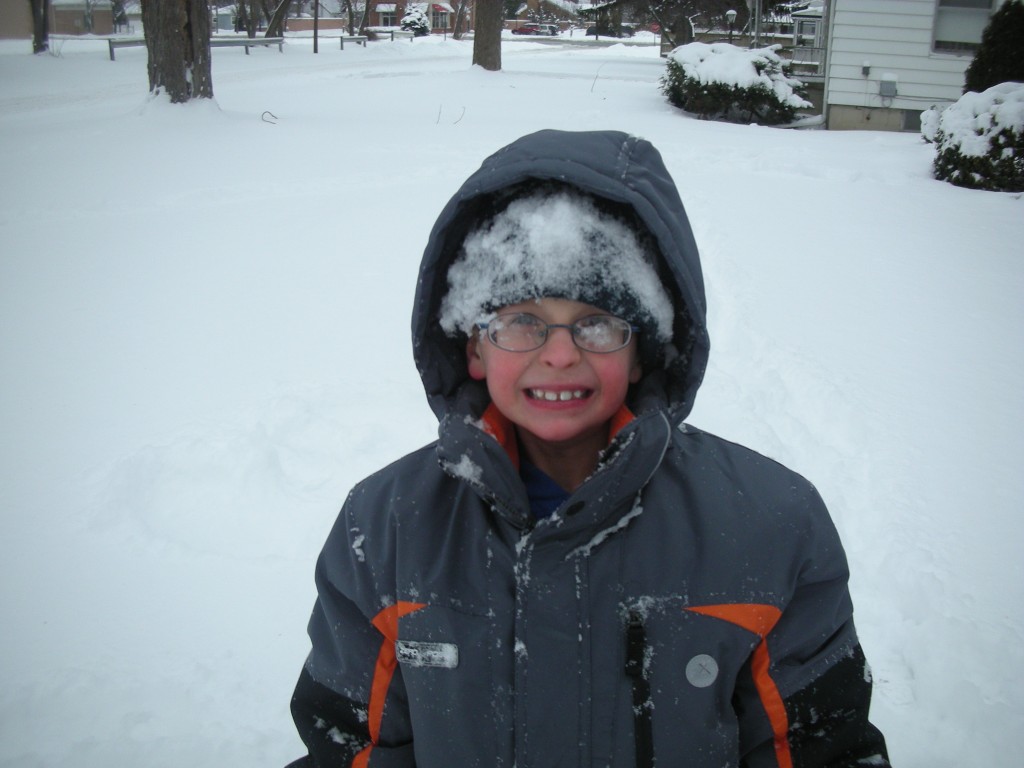 Before you read this: Please don't judge me… I'm just sharing my story because people asked…
Wow… okay, I wasn't sure if I was ever going to tell anyone about this, but it's late and I'm sleep deprived, so I guess I'll just write it now and regret it in the morning.  :-/
First of all, just for some background:  My mom died right when I was born. (she was actually really, really hot- but this isn't about her.  I guess that's screwed up to say, but whatever.)  I actually grew up with my dad's family, because my dad has all sorts of emotional issues and he bailed before I was born.  So you can see, my childhood was really kind of messed up.
Anyways, growing up I feel like there was always a lot of distance between me and my sister.  When I was about 17 or 18 I noticed that my sister was a hottie.
I don't want to go into too many details about it, but basically what happened is that I accidentally found a video that she made of herself.  I knew that she didn't make it for me, but I thought she was so incredibly beautiful that I watched it twice.  Hell, I probably would have watched it a lot more, but right around the time I found the video, all of this crazy crap went down and I had to leave home. (My dad's family who I was staying with got in bad trouble with the law.  I never talk about it.)
Sooo… I was totally lusting after my sister at that point.  She was also having bad trouble with the law.  In fact, she was actually in jail when I left home.
My friend and I went to go pick her up.  When I saw her that day, after seeing the video, I have to be honest, I wanted her really bad.  Like… wanted her.  Looking back on it now, it's pretty messed up, but I think she had feelings for me, too.  She actually kissed me right after we came to get her… and it wasn't a sisterly kiss, you know?  I mean, it wasn't ridiculously sexual or anything, but it definitely wasn't sisterly.
After we left, we all went to crash with my sister's friends.  On the trip there, my friend sort of implied that he wanted to get with my sister and I got a little jealous.  He's a good looking guy and even though she was my sister, I just felt like he was competition.  Not much else happened between us for a while except some maybe-sexual hugging.
My friend and my sister never hooked up, I don't think… but I thought there was some serious sexual tension going on between them.  It was around that time that I got really badly hurt in an accident.  It was really F-ed up.  I almost died.  But when I was in recovery, my sister came to see me and out of no where she just gave me this awesome, slow, passionate kiss on the lips.
Sadly (although, I guess for the best) nothing ever came of it.  We spent some time apart… and I started to get really religious, so I tried not to think of her in that way.  It was actually going well for a long time- like I was totally over her.  But I have to say, like a year or so after all that stuff went down, we were out sailing (not like a date or anything romantic like that) and she was wearing like the hottest bikini I've ever seen in my life, like anywhere, on anybody.  It just immediately brought back all of the old feelings.  *sigh*
A little while later she actually wound up with my friend from before. (the sexual tension guy)  I can't say I was surprised.
But even after she was shacking up with my friend, there was this one time we were at a party… my friend was inside and my sister and I were out on the deck alone.  It was really an intimate moment.  I think something might have happened, except that I killed the mood when I told her that our father was Darth Vader and I had to go face him.
My Grandfather passed away recently and we went to the funeral last week.  He lived to be 101 years old!
Most anyone who knows me knows I'm not a religious person, but my grandparents (maternal) were.  They were those rare sorts of people who despite being deeply devout in their beliefs, would not wear their religion on their sleeves.  They were never the sort to look on you with that vaguely disappointed expression, as if already imagining your soul burning for all eternity and wondering how they could possibly "help" you to see the light. (My friend Molly is very similar)  If my grandparents ever said a prayer for their heathen grandson, I never knew it… and I love them all the more for that.  They were genuinely good people who lived their lives, strong, yet quiet, in their faith.
Bran was very curious about the whole affair.  We'd taken him with us a couple of months back on what would be the last time I'd see my Grandfather alive, so he actually knew and remembered who it was who had died.  It was recent enough to still be clear in his 7 year old mind, probably even complete with memories of words spoken.  At that time, Grandpa was having more "bad" days than "good", but we'd lucked out for our visit.  We talked about him playing trombone in the Ohio State Marching band and his time as a missionary for three weeks in Honduras.  I won't go so far as to say that the conversation was easy, heh… he was 101 and if he rambled a bit or couldn't quite recall enough details, well that was just fine.  Bran was naturally shy about this scary old man in his hospice bed and oxygen tank, and initially refused to come in.  But as the minutes passed I looked over to find he'd scooted closer and closer until he finally joined our circle.  It wasn't long until he was asking questions and telling his own stories to his "Great-grandpa."
That was a good day and I guess everyone felt better for it.
At the funeral last week, I explained to Bran that Great-grandpa had died and that his body was up in the casket at the front of the room.  We'd already gone over a lot of questions such as "Why is he dead?" and "How did he die?"  We explained that Great-grandpa was very old and it gets harder for your heart to keep beating and pumping your blood when you get that old.  He's read a few books with us about the human body and has long been fascinated with the concept of lungs, hearts, and other organs.  He accepted our explanations with an unaccustomed  solemnity.
The casket was open and Bran could see Great-grandpa sort of propped up and highly visible.  He definitely wanted to go up for a closer look, so Kristin and I took him closer.  He was very quiet and respectful.  He paid some face time with looking at the various pictures around the casket, but his attention clearly kept wandering back over to the casket.  Later on, after he'd had some time to think on it all, he said that he wanted to go back up.  At first he said he just wanted to go "touch" Great-grandpa, but he further clarified by saying he wanted to "touch his heart."
Now I wasn't at all sure about this, but evidently Bran was.  I'm not sure if he wanted to just verify that his heart was no longer beating… or a fascination with seeing a dead person and what that really meant?  But I think it was his 7 year old way of coming to grips with the concept of mortality.
We've already had a couple of those moments during an otherwise normal bed time story or good night kiss, when he seemingly out of no where busts out with that parental nuclear warhead, "I don't want you to die, Daddy."  What can you say to that, really?  I still remember my own long nights of sleeplessness as a child, realizing that people really do die and then connecting the proverbial dots that meant that "people" includes "Mommy".  As a child you try to find some sort of loophole in that logic, anything that can offer some sort of hope that the most important thing in your life… really the ONLY thing in your life, isn't actually mortal.  Fortunately, when your young, magic isn't something that can yet entirely be ruled out, so eventually sleep does come.  But deep down, when everyone else is asleep and the nightlight doesn't seem so bright, you still know…
Bran eventually did touch Great-grandpa's heart.  I think he's connecting his own dots.
At the end of the service, he liked the idea of writing a note to put in the casket, to be buried with him.  He asked me for a couple of spelling confirmations, but the words were all his own: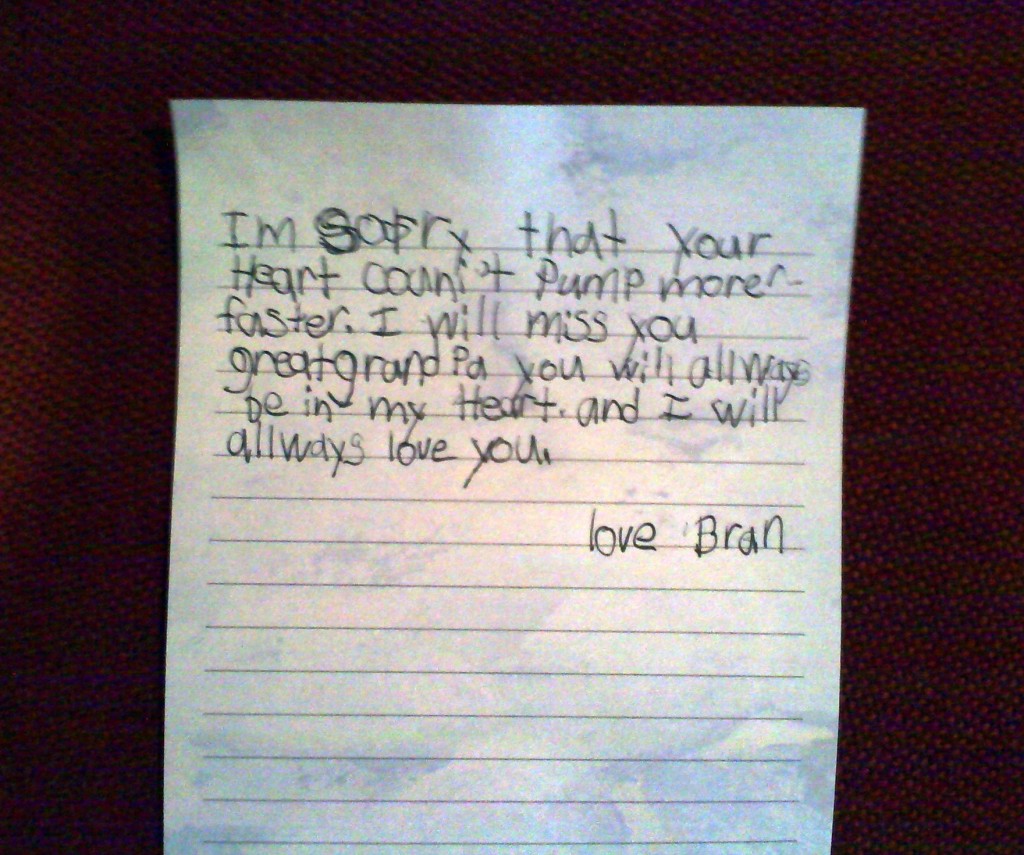 William "Doc" Myers, 6/27/1908 – 10/25/2009
You will always be loved.
Towards the end of a fairly busy day at work, I got this voicemail from my 7 year old son:
The best part of it is the very end when he drops the "I'm-leaving-a-very-official-message" voice and transitions into something more natural.  Clearly he hasn't quite perfected that concept that even though you are done with what you WANT the other person to hear, they aren't done hearing it until you actually hang up the phone.  😀