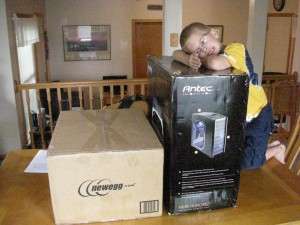 The parts I ordered for my new computer arrived two days ago.  It was a Wednesday afternoon, when the sun was at it's zenith and song birds filled the air with acoustic radiance to rival the sun's splendor.
I was at work.  :-/
Two hours later, after counting down the last 30 minutes one at a time, I was racing home to two wondrous boxes of joy and happiness.  All the buyer's remorse that consistently plagues me with purchases over about $1.50, was now gone.  It was like Christmas in July and Santa had mistakenly penned my name onto the "nice" list.
Just as one cannot just fill a stein with Meursault Clos de la Baronne and quaff it down like a Pabst, you can't just start slamming together computer parts.  They must first be… savored.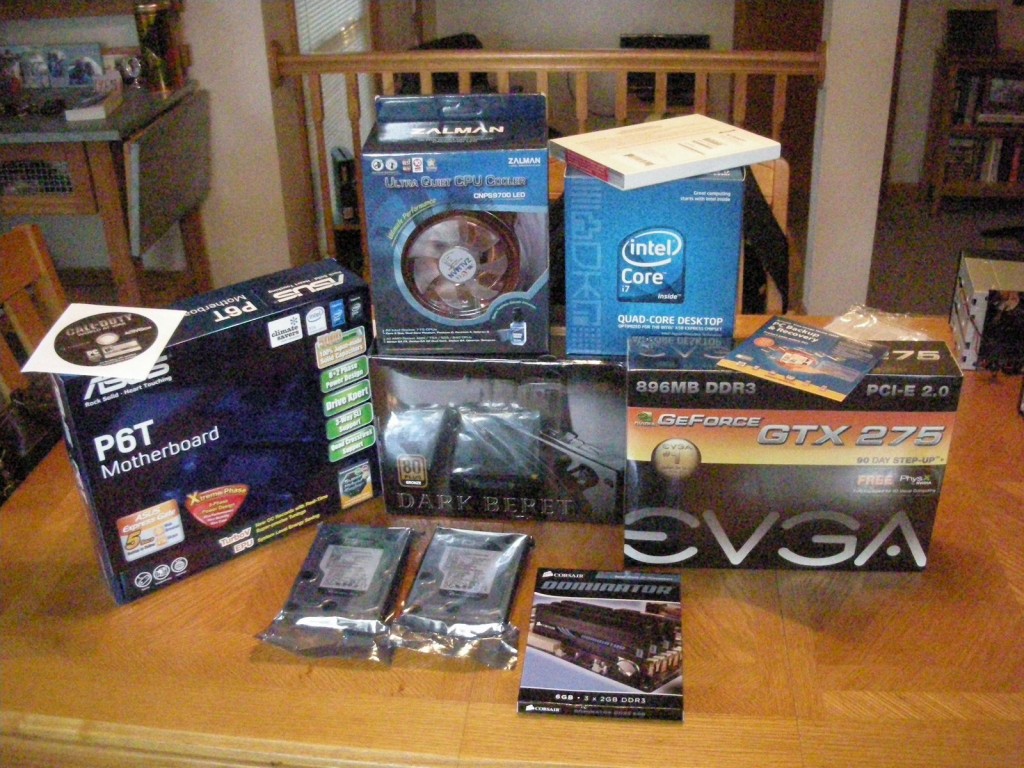 After first laying everything out for proper admiration, I started on the assembly.  I'll spare you ALL of the geeky details… I documented the process in pictures… but it was a long process.  At the end, my back screaming from hours of bending over the table, I was yanking out hard drive cages and adjusting cable layouts to fit in the monstrously huge video card.  From the back of the case to the front loaded hard drives, it has maybe half an inch to spare
After over 6 hours of labor, my brand new, bouncing baby computer was brought into this world.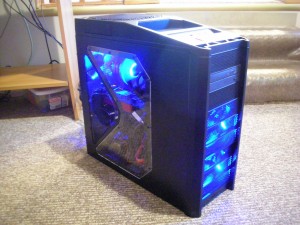 Ooooh, pretty blue lights.  Hee hee.
2 Responses to '"Look! It's moving. It's alive. It's alive!!!"'
Leave a Reply
You must be logged in to post a comment.