Archive for the 'Abandon All Hope' Category
Three kids died a couple of miles from my house yesterday.  Two of them lived right in my small Detroit suburb.  Any one of them could be my son in 10 years.
Three teenagers in a car, on their way to another friend's house.  For whatever reason, the driver decides to pick it up a notch.  And then another.  At 90 mph, I imagine he's thinking, "Fuck yeah.  Gunna hit a hundred.  Just 10 more." The passengers may have been scared and telling him to slow down, but I think they were more likely laughing wildly.  At 18 you're immortal and 100 mph is something to be experienced.  Something to tell your friends about later, like a badge you can wear saying, "I drove 100+ mph"
I don't know how anyone survives their youth.  I think it's got to be more luck than anything else.  When I was 18, I remember a dozens of times eerily similar to what I described above.  Not all in a car, screaming towards fate at double or triple the speed limit.  There are plenty of other ways for a teenager to die live.  But at least one time was 5 of us in a car, driving too fast, even though we knew it was too fast.  The country road was slick as it had just rained, but when you're a teenager, you love to go fast.  We should have been able to slow down for the turn, but it was wet and we were going too fast… like we knew it was and we were.  We were laughing and clutching at the seats, handles, and sides inside of the car, just wondering when Chris would start slowing down for the curve ahead.  Loving the moment.  The wheels slid… because it was wet… we went off the road instead of turning with the curve… because we were going too fast… and hit a telephone pole at probably 35 – 45 mph.
No one died.  We hit the pole on the front corner of the car which allowed some momentum to be redirected elsewhere.  In fact, the only one who was hurt was myself with a minor cut on my leg.  We all walked away from the car and shakily called the police from a nearby home.  Someone said later on that another 6 inches towards the center of the car and we'd all have died.  That may or may not have been true, but even if it wasn't, we were courting death for those few seconds and instinctively, we knew it.
The three teenagers in the wreck yesterday were not so lucky.  They didn't hit the brick and cinder block sign on just the front corner of their car.  The only place to which their momentum was redirected was straight into their bodies.  From 100 mph to 0 in under a second is a lot of force to absorb…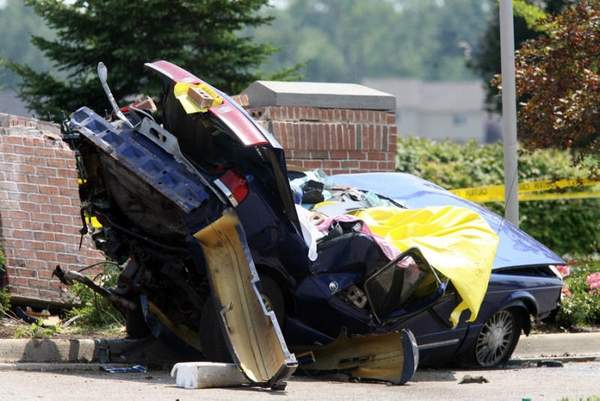 …even when you're immortal.
Reposted from Meltinyourmouth.
Well gosh darn, golly-gee-willikers, those friendly folks down home at Max Motors are giving away guns with every purchase of a new truck!

No, I couldn't make this up.  Every time you buy a truck, you get a gun.  And not just any gun, mind you… oh no.  You get an AK-47, just what every God-fearing Christian American needs for home defense!  Just in case those darned pinko commy liberals start getting all uppity, you know.
Just look at this happy customer!
Now don't get me wrong, I don't hate Sarah Palin herself.  I hate her supporters who for some reason think that her down to Earth idiocy, still should hold any office above that of a City Clerk.  But I do not hate her… aside from being a republican, she seems likable enough.  Someone you may want to have a beer with.
Of all the people I've ever shared a beer with, there isn't a one of them I would want to be president of the USA.
Despite having quit her job, she still can't seem to refrain from reiterating how important it is that she not be allowed within the city limits of Washington DC.  When asked to explain why as president she wouldn't be subjected to the same ethics investigations that compelled her to resign as governor of Alaska, (ABC News interview, July 7, 2009) she said:
"I think on a national level your Department of Law there in the White House would look at some of the things that we've been charged with and automatically throw them out."
Department of Law?  Did she think "President" meant the president of University of Alaska?  What is the Department of Law?  I'll give her the benefit of the doubt and assume that she did not mean the Justice Department of the USA.  No one would really think that the Justice Department exists to protect the president from being accused of ethics violations.  No, really… no one could possibly think that.  So she must have meant the president's legal council and for some reason decided to grant them the title of "Department of Law" in her own head.  Ok, but even so… how are they just able to "throw them out"?  That'd be a great lawyer, wouldn't it?  Someone who could just look at your case and decide on their own to have it thrown out.
This is the same former vice presidential candidate who thinks that the vice president of the USA runs the senate.
This is the same Sarah Palin, who when asked by Katie Couric, how Alaska's proximity to Russia gives her foreign policy experience, (CBS News interview, Sept. 24, 2008 — Watch video clip) said:
"Well, it certainly does because our — our next door neighbors are foreign countries. They're in the state that I am the executive of. And there in Russia … We have trade missions back and forth. We– we do– it's very important when you consider even national security issues with Russia as Putin rears his head and comes into the air space of the United States of America, where– where do they go? It's Alaska. It's just right over the border. It is– from Alaska that we send those out to make sure that an eye is being kept on this very powerful nation, Russia, because they are right there. They are right next to– to our state."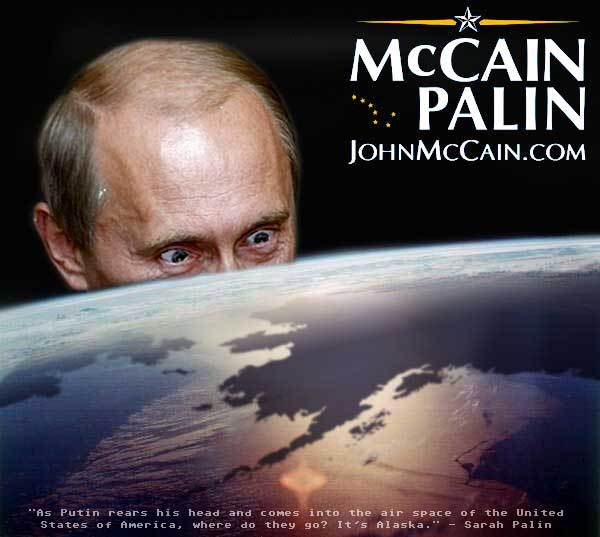 Topping today's list of breaking news that everyone already knew is the annual report on whether or not America is still fat.
We are.
Not only are we still fat, thanks to drawing it to everyone's attention and really focusing on improving overall health… we're even fatter than before.
"Obesity rates among adults rose in 23 states over the past year and didn't decline anywhere, says a new report from the Trust for America's Health and the Robert Wood Johnson Foundation."
Wow.  Not a single state lost any weight.
Here's an interesting tidbit for all you crazed smoke-Nazis out there complaining when someone lights up 100 yds off in the distance:
Studies show Medicare spends anywhere from $1,400 to $6,000 more annually on health care for an obese senior than for the non-obese.
Your turn is coming.  How long before Fried Chicken is banned in the work place?  "Welcome to Money, Inc, Ma'am, now step up on the scale to see how much your health insurance will cost."
However, the future is not completely bleak.  Krispy Kreme may be going out of business, soon.
This picture singlehandedly captures why non-SUV drivers hate people who drive SUVs.

see more Fail Blog
If you drive an SUV, you probably think it's because a Hummer takes up two parking spaces.  But hey, you drive an Explorer so why is that guy frowning up at you?
Previously, I thought the Internet was all about porn.  Without porn, the Internet clearly had no purpose.  But then all these so-called "social networking sites" started showing up.  MySpace… Facebook… and because it's clearly far too much effort to use Facebook, evidently Twitter was born.
But I always doubted that these types of things were ever really used for anything, except porn.  I mean come on… Twitter's slogan is "What are you doing?"  Umm… I'm on the Internet.  Duh?  Downloading porn.  I mean what else would I be doing?
But now I understand.  This man and his customized office chair, have shown me the light!
Man Builds Chair That Tweets His Farts, Single-Handedly Justifies Twitter's Existence
I'm astounded that some people have driving licenses.
BIRTH CONTROL IS SINFUL IN THE CHRISTIAN MARRIAGES and also ROBBING GOD OF PRIESTHOOD CHILDREN!!
For the low low price of $135, you too can be the proud owner of… well, let's just see what this humble servant of God has to say about her handiwork:
THIS IS A HOLYSPIRIT MANUSCRIPT BOOK: WHEN YOU BUY THIS BOOK YOU WILL BE READING A HOLYSPIRIT DIRECTED BOOK FROM GOD; & *CHRIST JESUS. THIS BOOK IS GODS HOLYSPIRIT VOICE: THE CALL FOR ALL CHRISTIANS & CHURCHES TO REPENT FROM ALL THEIR SINS: EVEN FROM FALSE CHRIST TEACHINGS. BIRTH CONTROL SINS HAVE CURSE THE CHURCH WITH SPIRITUAL WHOREDOM & FALSE WORSHIP. RESULTING IN THE PERSECUTIONS: AGAINST THE HOLY PEOPLE…
There is more, but there are only so many capital letters I can subject you to as a reader.
The best thing about this listing on Amazon is clearly the reviews.  For example:
THIS BOOK HAS GIVEN ME A NEW LEASE ON LIFE: I NEVER THOUGHT I COULD USE > PUNCTUATION > IN THIS WAY BEFORE: BUT NOW THE HOLYSPIRIT HAS GIVEN ME THE ABILITY TO> CHALLENGE SOCIAL PUNCTUATIONAL NORMS!! PRAISE JESUS!!

– Michael Tyznik
and
THE WHOLE BOOK IS IN CAPS SO THAT YOU KNOW THIS IS SERIOUS BIZNESS!! CAPS!! DEAR LORD JESUS CAPS!!!!

– S. Lodise "Word."
This book should be picked up by Trojan as their posterchild for why you really DO want to prevent some pregnancies.
TheSmokingGun – Trio Swapped Kids For Bird
Piece of Trash A with a bird is contacted by Pieces of Trash B and C who have two kids.  Pieces of Trash B and C want to swap the two kids for the one bird.  Evidently recognizing that they may not be getting the better end of this deal, Pieces of Trash B and C ask for $175 in addition to the bird.  Piece of Trash A finds this acceptable.
The two kids are 4 and 5 years old and their mother (Piece of Trash D) is a criminal fugitive and they've been bouncing from home to home over "several years".  Currently, they've in possession of Piece of Trash B, "a convicted pedophile with a lengthy rap sheet."
I've been kind of pissed that I'm 3 months overdue for my annual review and corresponding pay increase, but I think I'll just STFU today and give my son a hug.
I used to be a Republican.  Not only that, I used to really be a Republican.  As in, "you dirty steenkin' pinko-commie-liberal" type Republican.  In High School, I praised the awesomeness that was Ronald Reagan and laughed heartedly at Jimmy Carter's foolishness.  I never believed entirely in everything the party stood for, but I believed in most of it and where we saw eye-to-eye were the most important issues to me.  Small government, trickle down economics, foreign policies, strong national defense… these were the foundations of my support for the Republican party.
Today… not so much.  I voted for Barack Obama this past election and quite honestly, I'll be proud of that decision even if he fails to deliver even most of what he's promised.  I wouldn't call myself a Democrat, though… I just voted for the person I felt was best for our country.  I don't really know what I am, but I do know that I am definitely no longer a Republican.  In fact… I'm so far from it, I find myself initially predisposed against candidates, just because they are Republicans.
Why?
Here's an example of what makes my skin crawl and long for the days when these out dated dinosaurs of hate finally die off of my planet:
Sen. Dave Schultheis, of Colorado Springs, on Wednesday opposed a bill requiring pregnant women to be tested for HIV so that if they are infected their babies can be treated to prevent the virus's transfer.

"This stems from sexual promiscuity for the most part, and I just can't go there," he said.

"We do things continually to remove the consequences of poor behavior, unacceptable behavior, quite frankly. I'm not convinced that part of the role of government should be to protect individuals from the negative consequences of their actions."
Really??  So this boil on the butt of humanity wants an unborn baby to have AIDS. even though it could be prevented, just to teach Mom a lesson?!?!  Seriously?!?!  What sort of human being thinks like that?
* What he said afterward: "What I'm hoping is that yes, that person may have AIDS, have it seriously as a baby and when they grow up, but the mother will begin to feel guilt as a result of that. The family will see the negative consequences of that promiscuity and it may make a number of people over the coming years … begin to realize that there are negative consequences and maybe they should adjust their behavior. We can't keep people from being raped. We can't keep people from shooting each other. We can't keep people from jumping off bridges. People drink and drive, and they crash and kill people. Poor behavior has its consequences."
Weep for humanity, people.