Archive for the 'Ranting and Raving' Category
I just noticed a few minutes ago that my 401k had reached an all time high as far it's total value!
For a few moments I felt pretty good about things, until it sank in that the previous all time high had been back in October, 2007.  :-/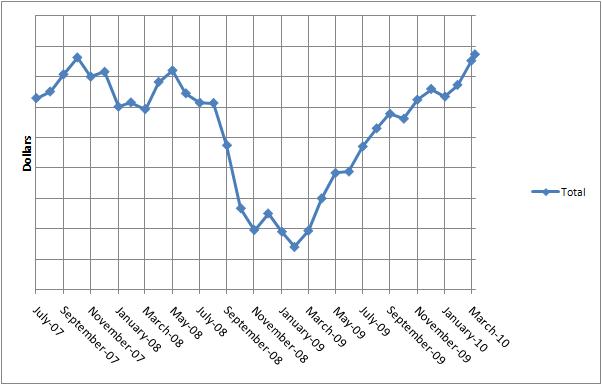 Then I realized what this really meant… in the last two and a half years I have put only a couple of dollars more into my account than it has lost…. which is roughly 20% of its entire value.  I took two and a half years of saving and flushed them down into the sewers of Wall St.
Purely by coincidence, I'm sure, 2-1/2 years is the same amount of time my house has been on the market.
This would have been a good day to "work from home."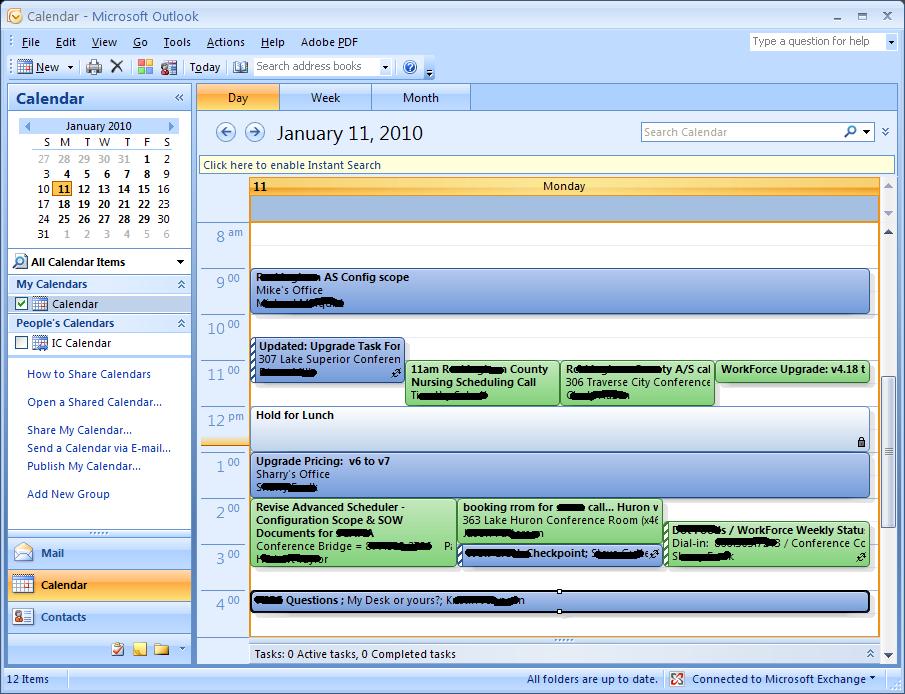 On top of it all, some freak, 30 minute snow storm turned my 15 – 20 min commute into an hour this morning.
One of my father's traits that I inherited is a deep loathing of paying more for something than it is worth.  I can spend a lot or a little on just about anything as it is not the amount that necessarily bothers me.  I paid around $1,500 for my current computer and am absolutely in love with it as it is easily worth $3,000.   However, when Burger king offers a hamburger for $0.99 and a cheeseburger for $1.49, I am offended at the prospect of paying 50 cents for a &$%@ing slice of cheese!!
Some of you may remember a couple of posts I've made in the past regarding our health care system in the USA.  Everyone in the world agrees that we suck when it comes to health care.  Well here we are with a bill in the Senate and our political wonder boys haranguing each other over exactly what the bill will say.  This is good news, although bittersweet.  Over the last year, Republicans and Democrats have traded barbs over this subject, using it as a club with which to beat each other bloody.  Yay for politics in America.  High five.
One of the sticking points has been this notion of government involvement within a capitalist society.  The Democrats say that health care is so screwed up in this country, the government has to get involved and be a sounding board of sorts for the health insurance companies.  You see, while the rest of the company has lost their asses this last two years, with mortgages as much as twice as much of the value of their house; no work to be found anywhere; and foreclosure now a household word… the health insurance companies have made record profits.  Kind of like oil companies.  In the last decade, where your income has raised a paltry amount amidst intermittent years of salary freezes and union concessions, the amount you pay for health care has doubled!
Is our health care now twice as good as was a decade ago?  Or did the health insurance companies finally figure out that although cheese only costs 3 cents, a cheeseburger will sell for 50 cents more than a hamburger?  Actually, it's even worse… it's extortion in the worst sense of the word.  Al Capone never had as a good of a racket.  You say you don't like the price of your health insurance?  You aren't getting your money's worth?  Heck, it's a free country and you don't have to buy insurance or you can just shop around for something better, right?  Right?
This is the sort of thing that simply enrages me.  Countries with the best health care in the entire world are paying HALF of what we do in the USA.  Countries that our ignorant asses scoff at and proclaim as inferior.
I ran across this "de"-motivational poster and just had to pass it along: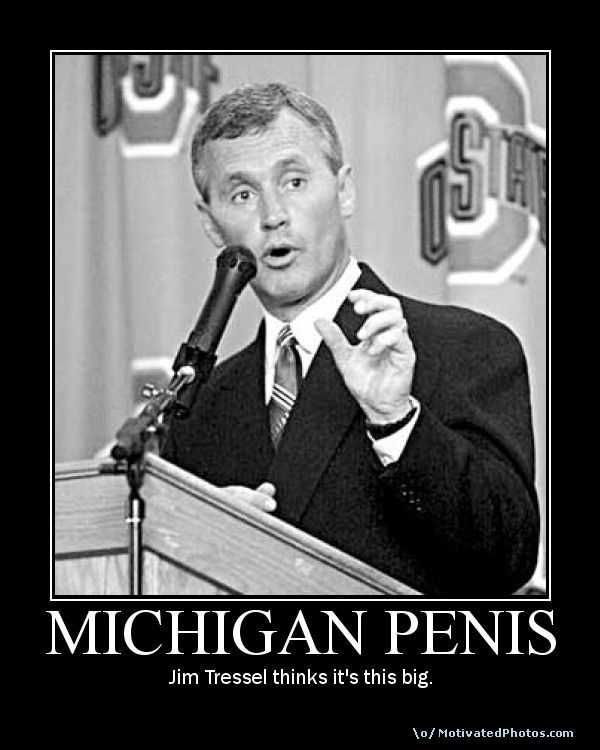 …
This got me inspired, so I just had to make my own: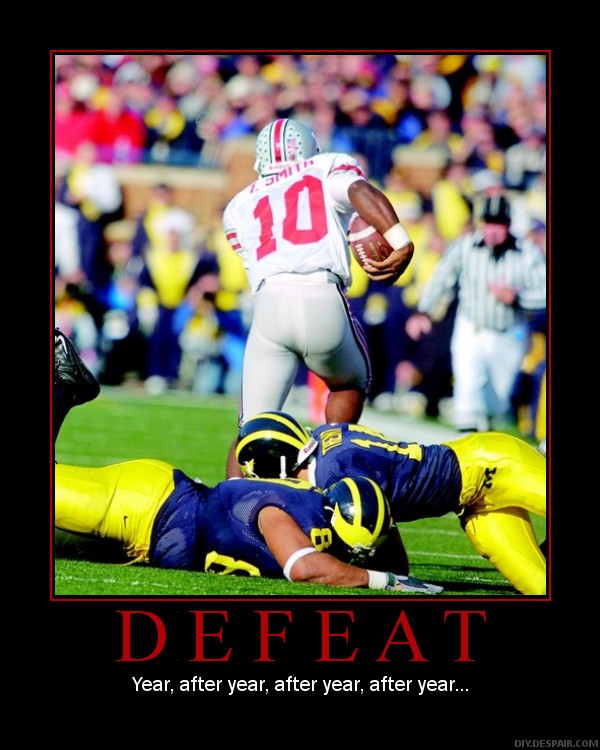 Go Bucks!
Ever since I left Ohio, back in 1990, I've had the same conversation every fall.
Me: GO BUCKEYES!!!
Non-Ohioan: I never knew you went to Ohio State.
Me: I didn't
Non-Ohioan: …
When you try to explain that when you grow up in Ohio, you're an Ohio State fan, they'll give you the cursory nod as if they understand, but as every displaced Ohio native knows, they don't.  For others, the school, the history… the rivalry… is academic. They can read about it, they can listen to your stories even as your voice raises and your gestures grow emphatic with each curse you let slip, but they didn't live it.  And at a very early age we gave up trying to make them understand.
But that's ok.  This time of the year, this week leading up to this Saturday, the last Saturday before Thanksgiving… it's for us.  Well, us and those misguided people cheering for "that school up North".  Our friends and loved ones can join us in our revelry… or anguish, supporting us even without understanding the depths to which emotions permeate, but this time, this game, is solely for us.
What started at the border of two states, a fight over ownership of Toledo of all places, has transcended the years.  The beginning may be long ago, 1835 to be exact, but every generation has it's own years, it's own games, to fuel the inveterate hatred.
Mine was an entire decade.
They got the '90s, but I get the 2000s.
Just one more year.
The Whole State of Michigan
The 2009 Legatum Prosperity Index was released today.
Yeah, I never heard of it either, but evidently it's a fairly legit operation.  And by legit, I mean neither the Democrats nor the Republicans hired them to prove how evil the other party is.
The index is based on a definition of prosperity that combines economic growth with the level of personal freedoms and democracy in a country as well as measures of happiness and quality of life.

The 2009 Legatum Prosperity Index, published on Tuesday and compiled by the Legatum Institute, an independent policy, advocacy and advisory organization, ranked 104 countries which are home to 90 percent of the world's population.
So, obviously USA is #1, right?
No… that'd be Finland.
O.o
Finland?  You mean… the people of Finland are more prosperous than Americans?  Come on.  Really?
Well, maybe Finland is really cool and all.  So cool that they and USA were close enough that some rounding errors pushed them over the USA in a fluke runoff tie breaker or something?  Probably something like that.
Except that #2 is Switzerland, not the USA.  Friends and countrymen, we are not even in the top 5!  I'm afraid, when the next Olympics roll around, we're all going to have to chant, "We're number 9!  We're number 9!"  I don't even want to think what the giant foam hand things will look like that we'll need to raise up in the air from the stands.  By the way, if you've been disconcerted lately with thoughts that perhaps Canada isn't such a bad place after all, well chances are that you aren't alone… they came in ranked #7 overall.
Here are the categories of the index, ordered by where the USA was ranked in each:
#1 – Entrepreneurship and Innovation
#2 – Democratic Institutions
#7 – Education
#7 – Social Capital
#8 – Personal Freedom
#14 – Economic Fundamentals
#16 – Governance
#19 – Safety and Security
#27 – Health
So um… health care.  Yeah… that old thorn in our side.  You suppose we should do something about it?
Let's take a look at some of the countries that have better health care than the USA.  #1 is Austria.  The rest of the top 5 are Ireland, Switzerland, Singapore, and Belgium.  Hmm… what do all of these places have in common?  If you guessed "public health care", you win the Kewpie doll!!  It's not just the top 5, either.  The list is long and rather unvaried in terms of countries ranked higher than the USA and whether or not they provide government run health care as an option to all of their citizens.
Smarten up people.  If you want your country to one day over take such health care juggernauts as Hong Kong (#18), New Zealand (#19), Slovenia (#24), and Taiwan (#26)… maybe even one day measure up to our wacky Canadian (#22) neighbors, eh?  Then call your congressmen and let them know that you support government run, public health care options.
Or else next year, we may slip further down, past Uruguay (#28), United Arab Emirates (#29), and Hungary. (#30)
Today is 09/09/09 which is really something.  Or so we're told.  I mean, yeah… you have to ignore the fact that it's not really the year 09, but that's normal.  It's not like it's really 09/09/2009, or 9/9/09, or something else less special.  This is really and actually a significant moment in history, folks!
I guess this isn't going to happen again for over 100 years or maybe even a thousand!
Next year, when 10/10/10 rolls around, it's totally not going to be nearly as meaningful.  Not as much so as 9/9/2009… er, I mean 09/09/09.  And what about 11/11/11?  Forget about it, THIS… THIS moment in history, this 09/09/09 isn't coming around again EVER IN OUR LIFETIMES FOLKS!!!!
It's the last time in the next 100 years that we'll have the a set of repeating, single-digit dates.  And since single-digit dates are clearly more special that double-digit dates… or at least single digits where we arbitrarily tack on leading zeros for days and months, but lop off those annoying preceding millennium and century numbers from the year.
It's special, damnit… no really, it is.  :-/
Other things that are as special and unique as 09/09/09:
Snow Flakes – Yeah, there may be a bazillion of them on your driveway, but under a microscope each and every one is unique.
Your Kids – Afterall, everyone knows you sired the next Joe Namath, Michael Jordan, Albert Einstein, Mozart, and Picasso all in one.  No really, we all believe it just as much as you do.
Eclipses – Because there'll never be another 57%, lower quadrant, 100 lumines, lunar, not solar, in the Northern hemisphere bordering Indiana AND Ohio during the evening hours of 11:30 to 11:35 pm not obscured by the clouds ever again in our lifetimes.
Some of you may know that I play World of Warcraft occasionally.  (Those of you who know me well can stop laughing)
Blizzard announced their next expansion today with all of the major features that will be included.
Two new races to play!

Same old classes for players to level up through the same content they've had for years now.
Level cap raised to 85!

Half the increase of any other expansion.
New race and class combinations!


For everyone just itching to level up their 4th Warrior, this time as a Blood Elf!
More raid content than ever before!


Because having Normal and Hard modes of both 10 and 25 man instances count as 4 new raids, amiright?
Classic zones remade!


Everyone's just DYING to replay the Barrens, this time divided in two.  Let me guess… for twice the content?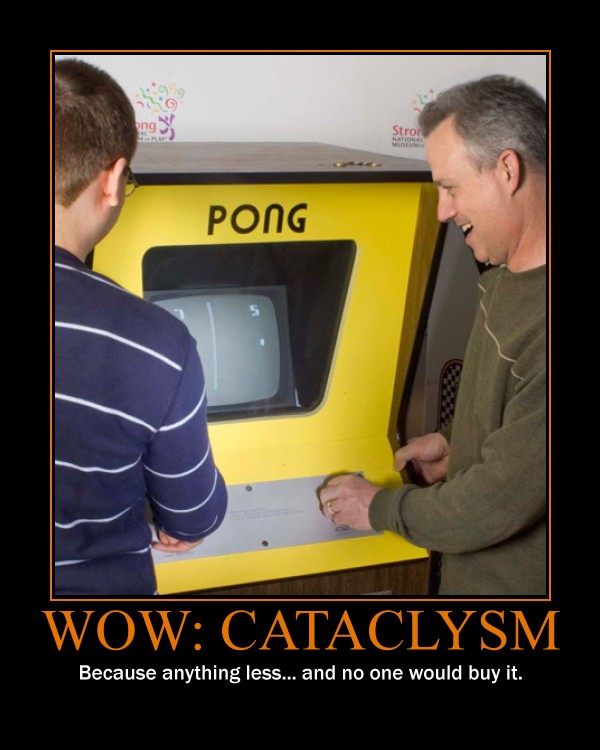 Back during the election, Kristin got fairly active with the Barack Obama campaign.  One minor fallout of that was that she signed me up to be on the email list for  Obama updates.
Near as I can figure, this email list has primarily been used to ask everyone for money periodically.  Roughly once a month, I would receive an email with just enough fluff to not be too crass about the basic premise of, "Hey, Kyle… how about a little more cash?"
Now, the election is long over and the next election is far off in the future.  There just isn't much of a reason for a politician to be asking me for money.  Or so I thought.
I got this email about a week ago from "Mitch Stewart, BarackObama.com". and I have to say, this is the absolute worst request for a political contribution that I have ever seen.  Check it out…
Kyle —

You've probably seen the headlines: Opponents of change are doing everything they can to delay health insurance reform. As a Republican strategy memo concluded, "If we slow this sausage-making process down, we can defeat it."

They're betting that as time goes by, our energy will flag, our movement will weaken, and they'll ultimately be able to block any change.

But they just don't get it — thanks to the regular Americans who are reaching out in neighborhoods nationwide, our movement is expanding every day. In fact, over the weekend, we surpassed our big goal of 1 million people taking action for health insurance reform. And with your help, we'll keep growing and prove that our opponents' strategy of "delay, delay, delay" simply won't work.

So I want to ask you for something unusual: Can you chip in $1 each day until we pass real health insurance reform? A huge response will show the insurance companies and their allies in Congress that their delay tactics will only make our movement stronger.

Chip in a dollar a day

Here's how it works: We'll bill your credit card for 30 days' worth of donations now and once a month until the President signs real health insurance reform into law.

The cost of inaction on health insurance reform is astounding. Every day, 14,000 more Americans lose their coverage. Premiums continue to rise at three times the rate of wages. And each day, more small businesses are forced to choose between covering their employees and keeping their doors open.

But that doesn't stop our opponents from trying to bog down the process with legislative tricks. And at the same time, they're attacking the President for "moving too fast," even though Washington has been talking about the need for comprehensive health insurance reform since the days of Harry Truman!

What they don't realize is that outside of Washington, our campaign keeps growing. We've reached our "million" milestone, but the stories behind that number are even more impressive: grassroots press conferences with small-business owners in Missouri, more than 1,200 people at an organizing meeting in Minnesota, huge events outside local Senate offices in Florida, and so much more.

That's why our dollar-a-day campaign is so important: If the few senators and representatives who are opposing reform understand that dragging their heels makes us stronger every day — and that the grassroots pressure on them will increase — they'll be far less willing to keep slowing down the process.

Can you help? Please donate $1 per day until we pass real health insurance reform:

https://donate.barackobama.com/dollar

Thank you,

Mitch

Mitch Stewart
Director
Organizing for America
Ok, let's break this down and analyze it…
ZOMG Kyle, we gots teh heath care answer, but teh repubes be fronting.

Repubes be wearing us down

But tey be ignant cause we are super cali-awesome!  If'n you helps, we wins!

GIVE US MONEY!!!!

We even make it look like we takin less than we are. 

Heath care be wack and real scary like.

Repubes are holdin us ALL back, Jack.

We be awaesome

TAHTS Y WE NEEDS UR MONEY!!!!

Uh, thanks.
WTF!?!?
So basically, they want money to do their job that we're already paying them to do?  Seriously?  Since when do you need money to pass a bill?
I wish this guy was coming to my door to ask for money instead of emailing me, so I could tell him to get the fuck off my lawn.
Topping today's list of breaking news that everyone already knew is the annual report on whether or not America is still fat.
We are.
Not only are we still fat, thanks to drawing it to everyone's attention and really focusing on improving overall health… we're even fatter than before.
"Obesity rates among adults rose in 23 states over the past year and didn't decline anywhere, says a new report from the Trust for America's Health and the Robert Wood Johnson Foundation."
Wow.  Not a single state lost any weight.
Here's an interesting tidbit for all you crazed smoke-Nazis out there complaining when someone lights up 100 yds off in the distance:
Studies show Medicare spends anywhere from $1,400 to $6,000 more annually on health care for an obese senior than for the non-obese.
Your turn is coming.  How long before Fried Chicken is banned in the work place?  "Welcome to Money, Inc, Ma'am, now step up on the scale to see how much your health insurance will cost."
However, the future is not completely bleak.  Krispy Kreme may be going out of business, soon.