Archive for March, 2009
Oddly enough, if anyone had ever asked me what sort of story would put my home town, Newark, Ohio, in the national news, I would have predicted exactly this story.
I'm astounded that some people have driving licenses.
Evidently, the Czech prime minister, and current holder of the EU presidency, Mr Topolanek, does not agree with Obama's economic recovery plans.
He attacked the US's growing budget deficit and the "Buy America" campaign, saying "all of these steps, these combinations and permanency is the way to hell".
At first glance, this may seem alarming.  Here is a notable, world leader condemming what is undoubtably a risky plan.  One might feel alarmed that perhaps those wiley Euopeans with their almighty "Euro" may know what they are talkning about.
That is, unless you look a little closer…
Mr Topolanek, whose government collapsed last night in a Czech parliament vote of no-confidence, said the United States was not taking "the right path".
Hmm… here you go Mr. Topo-Living-in-a-Glass-House-lanek: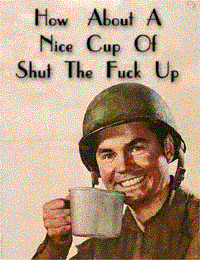 The Smoking Gun has a report about Marie Douglas-David who is claiming to have $53,826 per week in expenses as part of her divorce filing.  Sure, that's a lot of money, translating into almost $3 million per year.  But what shocked me was in the break down she claimed a cell phone bill of $481 per week.
Not per month… $481 per week.
Ok, seriously now… who the Hell pays that much for their cell phone?  How is that even possible?
I could call Obama's grandmother at that mudfarm village in Africa and then just leave the phone connected all month and still have a lower cell phone bill.
Some other interesting costs of living for Marie:
$8,000 per week in travel
$1,500 per week in "entertainment/restaurants"
And this one is just too lovely to fully contemplate… $1,000 per week in skin and hair care.
Not that skin and hair are everything… it also evidently costs Marie $4,500 to clothe herself each week.
Mind you, that clothing bill does not include keeping her clothes clean.  THAT is an additional $650 per week for dry cleaning.
Times are hard, my friends.  Clearly this poor girl deserves more than the pitance to which she's been relagated.  After all, she does note in her financial affidavit, "while recognizing that many of the expenses may seem high, most are lower than prior to the commencement of this case in August 2007."
Well, that makes it all ok, doesn't it?
Those of you who know me, know I utter this phrase somewhat regularly.  Most often when I am driving in the car, maneuvering through the throngs of inhumanity.  Today, I'm not sure if the person I hate more is the audacious ariline passenger or myself.
I spent probably 20 to 30 visits to Northwest's web site, adeptly maneuvering my seating assignment for the lengthy trip I had to fly.  Starting with a middle seat at the back of the airplane, I worked my up through successive visits closer to the front, then a window seat, finally arriving at me destination… a precious aisle seat just behind the exit row.
All was good, until I walked up to my seat to find this stranger sitting in my seat, looking up at me… expectantly… hopefully.  He and his ugly wife, girlfriend, or whatever seated next him, stumbled over each other to talk at once.  I don't know exactly what came out of their stupid mouths, but it amounted to asking me to switch seats with him, so they could sit together.
Here is where I hate myself… caught off guard, wanting to be friendly, I agreed.  I half-knew that I was consigning myself to a middle seat, but it didn't fully register until my own stupid mouth had already agreed.
What I should have said was, "Are you serious?  You want me to give you my aisle seat for your middle seat?  Really?  Next to the 400 lbs woman right there who is spilling over the arm rest and who will force me to sit with arm at a 45 degree angle across my body for the next 4 hours?  Just so you two can sit together?  You really can't be separated by the 8 feet distance that exists between her seat and your own assigned seat?"
Yeah, that would've been grand.
I hate people.
BIRTH CONTROL IS SINFUL IN THE CHRISTIAN MARRIAGES and also ROBBING GOD OF PRIESTHOOD CHILDREN!!
For the low low price of $135, you too can be the proud owner of… well, let's just see what this humble servant of God has to say about her handiwork:
THIS IS A HOLYSPIRIT MANUSCRIPT BOOK: WHEN YOU BUY THIS BOOK YOU WILL BE READING A HOLYSPIRIT DIRECTED BOOK FROM GOD; & *CHRIST JESUS. THIS BOOK IS GODS HOLYSPIRIT VOICE: THE CALL FOR ALL CHRISTIANS & CHURCHES TO REPENT FROM ALL THEIR SINS: EVEN FROM FALSE CHRIST TEACHINGS. BIRTH CONTROL SINS HAVE CURSE THE CHURCH WITH SPIRITUAL WHOREDOM & FALSE WORSHIP. RESULTING IN THE PERSECUTIONS: AGAINST THE HOLY PEOPLE…
There is more, but there are only so many capital letters I can subject you to as a reader.
The best thing about this listing on Amazon is clearly the reviews.  For example:
THIS BOOK HAS GIVEN ME A NEW LEASE ON LIFE: I NEVER THOUGHT I COULD USE > PUNCTUATION > IN THIS WAY BEFORE: BUT NOW THE HOLYSPIRIT HAS GIVEN ME THE ABILITY TO> CHALLENGE SOCIAL PUNCTUATIONAL NORMS!! PRAISE JESUS!!

– Michael Tyznik
and
THE WHOLE BOOK IS IN CAPS SO THAT YOU KNOW THIS IS SERIOUS BIZNESS!! CAPS!! DEAR LORD JESUS CAPS!!!!

– S. Lodise "Word."
This book should be picked up by Trojan as their posterchild for why you really DO want to prevent some pregnancies.
The ARIS 2008 report was released just recently.  That stands for "American Religious Identification Survey" and basically polls everyone to find out what they believe.
There are some trends they discuss, facts about regions, age groups, etc, but what I found amusing was this tidbit:
Only 1.6 percent of Americans call themselves atheist or agnostic. But based on stated beliefs, 12 percent are atheist (no God) or agnostic (unsure)
More specifically, 0.7% of the country claim to be Atheist and 0.9% claim to be Agnostic.  Then, there are 13.4% who say their religion is "None" or they "Don't Know".
However, when asked just about their beliefs, rather than attaching themselves to a title or group, Americans changed their tune:
If it walks like a duck, sounds like a duck, and is doomed to Hell like a duck…
I ran across this video on one of my favorite sites, FailBlog.org.  You'll be tempted to stop watching about half way through, feeling you got the jist and the rest is just more of the same.  But you have to watch to the very end when you see the score keeper in order to truly see why this celebration is a bit excessive. 

I've been slow with any new updates, so here is a song/video that always makes me smile.