Archive for the 'Michigan' tag
Long ago, our forefathers (Michigan forefathers, that is) had a great idea.  They needed to know how they should divvy up all of the state cash that was allocated for public schools.  After much thought and careful consideration, they decided that the fairest and most accurate way to do this was to have one single day, in the middle of each year, where they would simply count the number of students in the classrooms of each school.  The more kids a school had… the more money they would get.
Brilliant, no?
Detroit Public Schools will offer $20,000 in Target gift cards — including five $1,000 prizes — to DPS parents who bring their children for a full day on Count Day.

Breakfast and lunch also will be served to every DPS student at no charge.
How else could we possibly expect our public schools to get the proper amount of state funds if not through pay offs, free offers, and outright bribery?
Apropos of nothing, Detroit native and former mayor of Detroit, Kwame Kilpatrick, "is facing 19 counts of fraud and tax evasion, accused of illegally using the nonprofit Kilpatrick Civic Fund for personal expenses, including crisis consultants, a Cadillac, and summer camp for his kids. The fund was supposed to be used for charitable purposes." (Kilpatrick's status conference delayed to January)
How could he possibly have ever believed that he'd get away with these things?
I had such a good time making up the motivational picture in my last post, I had to do one more: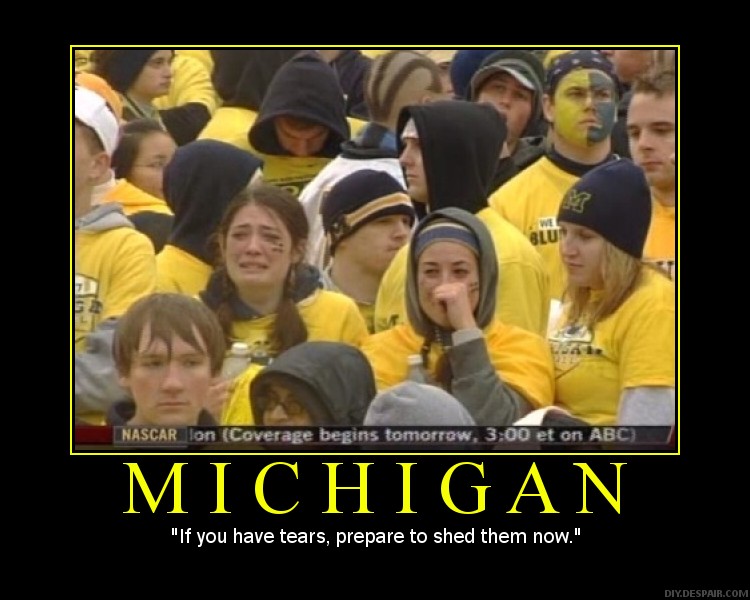 …
I ran across this "de"-motivational poster and just had to pass it along: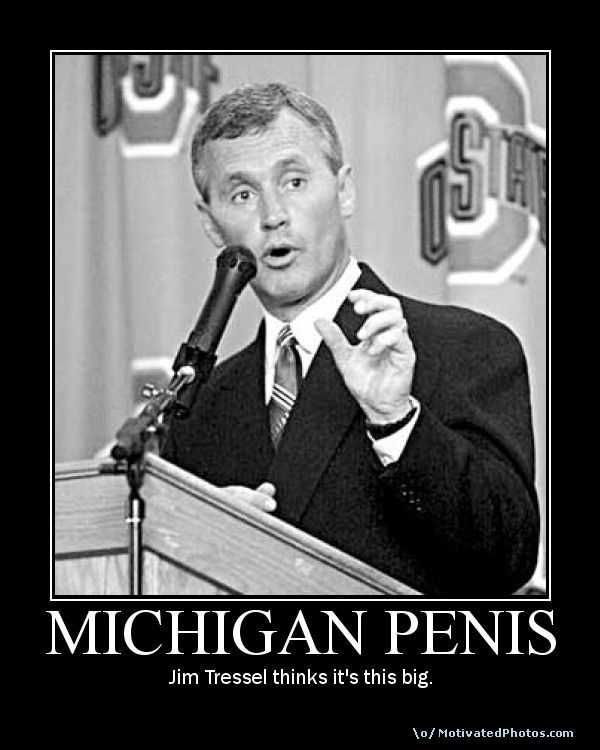 …
This got me inspired, so I just had to make my own: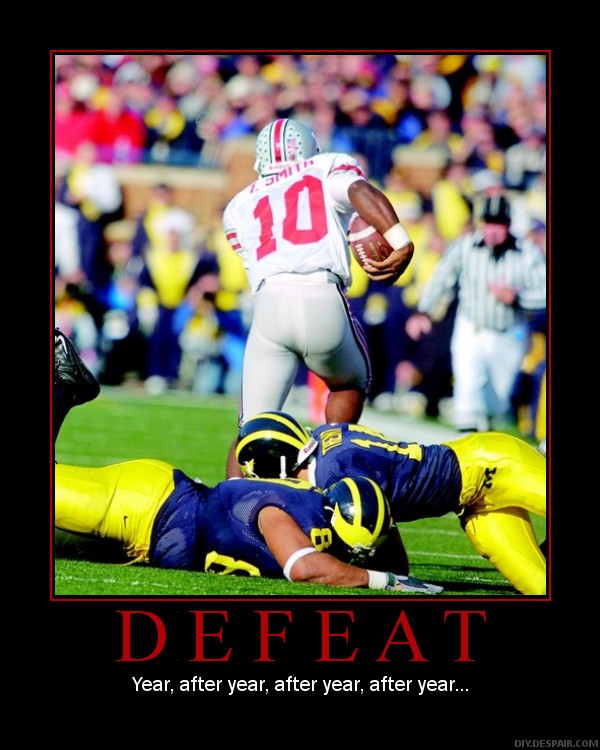 Go Bucks!
Ever since I left Ohio, back in 1990, I've had the same conversation every fall.
Me: GO BUCKEYES!!!
Non-Ohioan: I never knew you went to Ohio State.
Me: I didn't
Non-Ohioan: …
When you try to explain that when you grow up in Ohio, you're an Ohio State fan, they'll give you the cursory nod as if they understand, but as every displaced Ohio native knows, they don't.  For others, the school, the history… the rivalry… is academic. They can read about it, they can listen to your stories even as your voice raises and your gestures grow emphatic with each curse you let slip, but they didn't live it.  And at a very early age we gave up trying to make them understand.
But that's ok.  This time of the year, this week leading up to this Saturday, the last Saturday before Thanksgiving… it's for us.  Well, us and those misguided people cheering for "that school up North".  Our friends and loved ones can join us in our revelry… or anguish, supporting us even without understanding the depths to which emotions permeate, but this time, this game, is solely for us.
What started at the border of two states, a fight over ownership of Toledo of all places, has transcended the years.  The beginning may be long ago, 1835 to be exact, but every generation has it's own years, it's own games, to fuel the inveterate hatred.
Mine was an entire decade.
They got the '90s, but I get the 2000s.
Just one more year.
The Whole State of Michigan
Oh wow, this is a whole heck of a lot of Michigan-Go-Blue FAIL.
See?!?!?!  OSU was just trying to do Michigan a favor when they tore down that banner back in '73.
Michigan lawmakers in Lansing are meeting to clean up old and outdated state laws.
Legislation approved today would no longer make it a crime to engage in a duel with an enemy, to be in a prize fight or to take a woman against her will and force her to marry.
Finally! At long last, I can now legally challenge ALL of my arch-enemies to duels!!!  One at a time, I shall at long last enact the vengeance that has until now been denied to me.  You may have forgotten your transgressions, oh cretins of Michigan, but not I.  No… never I.
In completely unrelated news, Kristin and I are now legally married!